There is some very important information in this print guide. Please take the time to read any relevant sections before uploading any prints so that your files are formatted and saved correctly to give you the best possible print result, and allow us to have your files ready in the fastest possible time so you make your deadlines.
If you are a student architect, please read every section.
Use the menu on the right to quickly jump between sections.
If you are unsure about any section, please don't hesitate to check with us by calling or texting before uploading. We'd rather you took the time to prepare them right the first time than have to go back and reformat and re upload all of your files again, potentially delaying the printing of your panels.
Naming Your Files – IMPORTANT
To speed up our printing process and reduce the chance of error, you must rename your files in this exact format before uploading. This helps greatly with our workflow enabling us to print your work quicker, and enables us to catch incorrectly sized files before going to print, this reduces the number of reprints and saves you money.
1.PRINT SIZE or DIMENSIONS_ 2.PAPER TYPE_ 3.FILE NAME_ 4.YOUR FULL NAME.jpg
eg. A1_180g_Panel1_Bill_Murray.jpg
eg. CROP_MARKS_A1_180g_PlanDrawing_Bill_Murray.jpg
eg. 594x2400_Cartridge_Side_Section3_Bill_Murray.jpg
Useful optional file naming prefixes:
CROP_MARKS_….
NCM_…. (Specifically No Crop Marks)
DRAFT_.…
100PERCENT_….  (A2 and A1 cartridge sheets only. Read the borderless printing section further down)
CROP_MARKS… – This is useful when you need to trim your prints to exact size after printing. Very handy if you want to put your prints into portfolio sleeves or would like a final borderless effect.
NCM… – No Crop Marks. This is useful when you specifically don't want us to add any crop marks and you're happy to take the prints as they come out of the printer.
DRAFT… – Only applies to cartridge sheet prints. This is a fast mode of printing. A1 and A2 sheet printing takes more than twice as long as any other print. If you don't need top of the line photographic detail then draft mode can still produce excellent CAD, plan and line drawing results in a shorter print time. We then pass this saving onto you. We will print full colour prints in draft, be be aware if you have large blocks of solid colour there may be lines through it in the draft mode, so it is not recommended for important presentations.
100PERCENT… – Again this is only for A1 and A2 cartridge or Cycle Sheets of paper. See the borderless printing section at the bottom of this page for more on this prefix.
If you need multiple copies of one panel, provide two individually labelled copies in your zip file. This will ensure two images enter the print que and one is not forgotten about.
Zip up files before upload – IMPORTANT
To reduce the number of uploads it would help considerably if you could combine all of your files into one .zip file and upload that through the file uploader. This reduces errors such as forgetting to upload a single file arising. It also reduce the number of uploads on your end, and the number of downloads on our end, saving everyone time.
To do this on Windows, select all the files you wish to upload, then Right Click -> Send To -> Compressed (zip) Folder. This will create a zip file containing all of the files you selected to print, you now only have to upload this one file.
To do this on a Mac, select all the files you wish to upload, then Right Click -> Compress Items. This will create a zip file containing all of the files you selected to print, you now only have to upload this one file.
NOTE: You must be directly in the folder that contains the files in order to zip them, it will not work if they're listed as a search result or viewed through spotlight search on a mac.
You must then name your zip file like so:
YOUR FULL NAME_NUMER OF PANELS AND SIZES_PAPER TYPE.zip
eg. Bob Benson_10A1_2A2_180g.zip
eg. Bob Benson_3(800×2400)_Banners_Cartridge.zip
How to save your files for print.
Colour Space
We accept both CMYK and RGB files although we recommend you supply them in CMYK.
Adobe RGB will give you in theory the biggest colour gamut but since your panels are being printed on a media with a lower colour gamut than Adobe RGB itself, it is safer to convert files as CMYK to ensure you do not get any "clipping" of colours that can not be reproduced accurately.
Working in CMYK will also produce the most consistent colour reproduction no matter what printer use decide to print you final panels on. Whether it's your home printer, one at university or any other professional print shop.
File Format
We accept most major file formats for printing.
When possible save your file as a 300 DPI .JPEG at MAXIMUM QUALITY, or as .TIFF
We do accept PDFs if you created your file using office software, but if you're an architect it helps a huge amount if you can send a rasterised image such as a JPEG or TIFF. Read below for application specific instructions on how to do this.
Instruction on how to convert a PDF to a 300 DPI JPEG using Photoshop can be found just below this section, or click here. If you're an architect please try to do this before uploading. If you are using a Microsoft Office program or don't have access to the Adobe Create Suite then 'high quality PDF for print' is fine.
Saving the files in one of these formats ensures maximum compatibility once it arrives with us allowing us to print it without amendments and have it ready for you as soon as possible.
The second benefit is that is ensures the file size is reasonable, usually below 30mb for A2s or A1s resulting in quick uploading on your end and fast downloading on ours, whilst maintaining a great quality image for print.
Q. When I follow the instructions below and then open the resulting JPEG the image looks poor quality or the colours are off.
A. Often when you open a jpeg in Windows or on a Mac the default image viewer built in the operating system will be used. This may be Windows Photo Viewer in a Windows machine or Preview on a Mac. The image that appears on screen may not be accurate as the rendering engine is not designed to view very large high resolution and colour accurate images such as large architecture panels, banners or posters. You may also experience image rendering issues when viewing an image in a web browser such as the Dropbox web interface, as it's not designed to cope with such large image files. Usually there is nothing wrong with the file, it's just that the image renderer is not displaying it correctly.
To accurately verify that an image is how you desire and ready for print, open up the JPEG or TIFF in a dedicated image editing program such as Photoshop (or the free alternative, Gimp) before zipping up and uploading. This should give you a much more accurate representation of how the panel will look printed.
Adobe Photoshop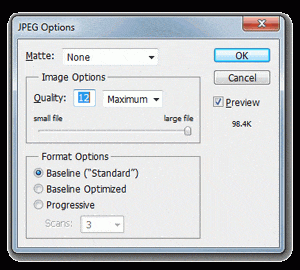 Recommended settings for saving as a .jpeg
1. Always ensure your Photoshop canvas canvas is set to 300 pixels per inch (not cm).
You can check this by going to Image -> Image Size
2. To save go to File -> Save as
3. Label you file as per the instruction above.
4. Set the Format: to JPEG
(Note: Don't select JPEG 2000)
5. The JPEG Options windows will appear.
6. Set the Quality slider to (12) Maximum
This ensure the file is not compressed and will be no compression artifacts around the text or fine lines.
7. Set the Format Options to Baseline ("Standard")
 8. Select OK to save.
Adobe InDesign
1. Go to 'File -> Export' 
2. Label your file in the correct format (see top of this page).
3. Set the Save as type: to JPEG
4. In the Export section select the All radio button and the Pages radio button.
5. In the Image section set
Quality: Maximum
  Format Method: Baseline
Resolution (ppi): 300 (Not 72, which may be the default)
6. Click Export
Adobe Illustrator
In Illustrator cannot go to 'File -> Save as' to save as a jpeg. You must instead:
1. Go to File -> Export.
2. Label your file in the correct format (see top of this page).
3. Set the Save as type: to JPEG
4. IMPORTANT: Below the drop down menu where you select JPEG, there will be a checkbox that says
Use Artboards – THIS MUST BE CHECKED.
This ensures that when your document is rasterised and exported the final image will be the exact dimensions of the art boards you set in Illustrator (eg. 594 x 841mm if you're working on an A1 panel). If you forget to check this, the final image will be cropped to the objects on the page and you may end up with an oddly sized file smaller than you expect.
5. The JPEG Options windows will appear.
6. In the Image section set
Quality: (10) Maximum
  Compression Method: Baseline (Standard)
Resolution (ppi): High (300) (Not 72, which may be the default)
 Anti-Aliasing: Type Optimised
Q. I get a memory error when exporting as a JPEG from Illustrator, what do I do?
A. Illustrator can occasionally throw memory errors when trying to rasterise content out to a high quality jpeg. To get around this save out from Illustrator as a high quality print PDF, and then rasterise the PDF in Photoshop as explained in the next paragraph.
How to rasterise a PDF in Adobe Photoshop and convert it to a JPEG
1. Close any open Photoshop documents.
2. You can then drag and drop the PDF into Photoshop or go to File -> Open and select your PDF.
The Import PDF dialogue box will appear.
3. If there is more than one page in the PDF document you can select them all.
To so this Select Page 1 -> Hold the "Shift" key on your keyboard -> Select the final page.
4. Ensure the Crop To drop down menu is set to Media Box, this will ensure your final rasterised image and canvas in photoshop is the full PDF page size. You can verify it's correct as the Image Size dimensions the next line down may automatically update to the correct page dimension of your document when you select Media Box.
If you forget to do this, the resulting rastired images in Photoshop may be cropped to the bounding box of the objects on your page. If there is a lot of white space around your page content this can result in an image substantially smaller than you expected and be a very strange size, as all of the white space will be cropped out.
5. Ensure the Resolution is set to 300 Pixels/inch (dpi). If this is lower at 150 or 72 it will result in pixelated images and text. Don't confuse this with pixels per centimeter (cm). 300 pixels/cm will result in a file that is 762 pixels/inch and may cause your computer to grind to a halt, particularly when working on exhibition panels.
6. It may take a moment for your document to rasterise.
7. You can now save as a Maximimum quality (12) jpeg at baseline standard as per the top of this guide. If the panel is a large banner (e.g. 1500x2400mm) the jpeg option may not visible, instead save as a tiff, discarding all layers.
This will produce a non-compressed high quality, high resolution image perfectly formatted for print.
Don't forgot to then rename your files using the exact naming convention at the top of this page and put them all into a zip file before uploading. Instructions on how to zip up files are in the next section.
Microsoft Office Programs – Such as Publisher or Powerpoint
All panels created using office software including academic posters and conference posters made in Microsoft PowerPoint should all be saved out as PDFs for High Quality Print.
Borderless printing and scaling to fit – Read if printing A1 or A2 cartridge sheets
The majority of our prints are printed on oversized paper so we don't have to scale your images down to fit within any margins (perfect for to scale architecture drawings).
Depending on the intended use you may wish to trim your prints to create a borderless effect or to fit them within portfolio sleeves. You're welcome to use our gullotene to trim your prints, or time permitting we can trim your prints for an additional cost.
The exceptions to this are our A1 and A2 cartridge sheets, which are already exactly A1 and A2 size. These are sheet fed into the printer, therefore there is a small print margin on each edge. If your image is to scale, you should leave a 20mm margin on each edge of your A1 or A2 image accordingly. If you don't leave a margin and the ink goes to the edge of the A1 or A2 image, ensure there is nothing important that you don't mind being clipped within 20mm of any given edge of the sheet. This ensures that we do not have to scale the image to fit and it's printed in full.
If you don't plan your file this way prior to uploading then scaling to fit will not cause any issues in most instances, for example on renders, but it may not be desirable if you are printing scale drawings.
If you do not want your prints to be scaled to fit on cartridge sheets leave at least a 20mm margin along each edge, within which there should be no important imagery or text you don't mind  being clipped, and label each image file and your .zip file with a prefix of  "100PERCENT".
eg. 100PERCENT_A1_Cartridge_Panel1_Billy_Bob.jpg

eg. 100PERCENT_10A1_2A2_Cartridge_Billy_Bob.zip
If you do not label your files in this way all A1 and A2 cartridge prints will be scaled to 95% to ensure the entire image is printed in full and no clipping of important information or labels near the edge of the page occurs.
This scaling factor is does not affect cartridge banners or any cartridge prints larger than A1, as anything larger than A1 is printed at 100% on oversized cartridge rolls with crop marks, just like all other prints on rolled papers such as matt and satin.
All cartridge exhibition prints for 3rd years are printed onto cartridge rolls to ensure everything can be printed at the exact size, at 100% scaling, so that when they are trimmed down and pinned up they result in exactly what you have planned in advance. This means all prints turn out exactly as expected, even if you are printing very odd sized custom panels with precise mm dimensions.

Roll sizes
The four main rolls sizes we use are as follows:
| Roll Width | Maximum Image Width |
| --- | --- |
| 15240mm | 1500mm (for any paper type) |
| 1067mm | 1057mm (1000mm for cartridge) |
| 914mm | 904mm |
| 610mm | 600mm |
An image that is 1000x2400mm can be printed onto a roll that is 1067mm wide.
To minimise the amount of excess paper and to eliminate the need for trimming when printing banners and custom size posters you may wish to size your file accordingly to fit nicely onto one of these roll widths.
We recommend setting your image width to a size equal to or less than the maximum image widths listed above.
Crop Marks
If you would like a faint border crop mark on your prints to make them easier to trim then specify this when booking and rename the files you wish to have crop marks by putting CROP_MARKS in capitals at the start of the file name. If possible, we will add a very faint dashed border all the way around the edge of your print or crop marks at each corner of the print to aid trimming. This is handy if you need to trim your prints to fit into portfolio sleeves or plan to cut them to a specific final size.
eg. CROP_MARKS_A1_180g_Panel1_Bill_Murray.jpg
By default for students we don't usually add crop marks (except for exhibition printing). If you specifically do not wish to have any cropmarks for any reason, say for example you're having a table top review of your portfolio and you don't wish to trim anything, then you can clarify this when renaming your files by adding the NCM (No Crop Marks) prefix to the start of each file.
eg. NCM_A1_180g_Panel1_Bill_Murray.jpg