Updated May 2017
Note from 21st May 2018 – Further updates coming later this week
Hello All!
It's that time of year again. The deadline to print and pin up your degree panels for the architecture final exhibition is fast approaching. I've put together this article to help illustrate some of the potential layouts you may wish to choose for your exhibition bay, along with information about how you can go about getting them printed, what paper types and sizes there are along with some stats from when we printed the bays for previous years cohorts in 2014, 2015 and 2016.
There's also a chance to win £50 worth of print credit in a competition at the end of the article, so be sure to check that out too.
Exhibition Bay Layout Options
The blank exhibition bay
Exhibition Bay Sizes
For those who haven't had a chance to see them in the flesh yet, the exhibition bays that the University of Nottingham provide are comprised of 3 main panels. The large centre panel is 2400mm x 2400mm, then there are two identical side panels perpendicular to this measuring up at 600mm x 2400mm. Connecting each side panel along the front of the main panel is low lying shelf raised approximately 10cm from the ground.
It's very important to measure the exact dimensions of the bay that you're allocated, as they are not all created equally. Some vary slightly, so you may have side panels that are not as deep and closer to 550mm wide instead of 600mm. Alternatively some are fractionally larger at 610mm or above, so be sure to double check before settings up your files digitally on your computer.
Full print coverage with the main panel split into three vertical strips
Full print coverage is one of the most popular options, which involves essentially wallpapering your bay.
If you decide to wallpaper your entire bay then for the main panel we recommend working on a 2400 x 2400mm canvas in Photoshop until until the end, and then at the point of print we advise splitting the main central panel in one of two ways. Either as three even 800mm strips or as two even 1200mm wide strips.
It's recommended to do this vertically instead of horizontally as it makes pinning them up much easier, think like hanging wallpaper.
It really doesn't matter too much if you split it in to two or three strips, as each panel will be printed with a slight overlap of the panel next to it. This way when they are lined up and pinned up accurately the seam is barely noticeable.
One reason why some people decide to go for 3 strips over 2 is that on some of the bays there are metal studs in the center, making it harder to pin up 2 strips. It's not an insurmountable problem, but certainly worth consideration.
Full print coverage with the main panel split into two vertical strips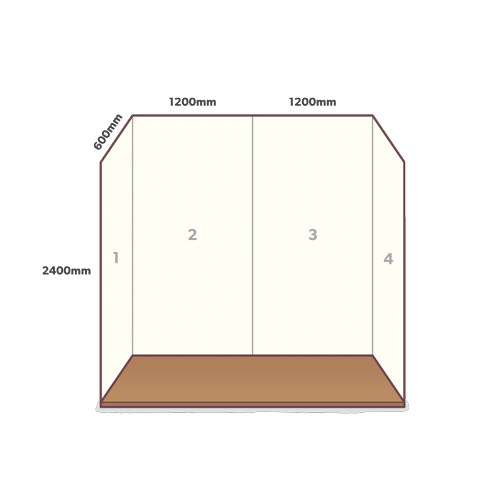 Full print coverage with the main panel split into horizontal strips
As mentioned above, generally we do recommend printing vertical panels, as this makes it easer to pin them up.
However, if you have large panoramic landscape images to print, and would prefer to avoid having a seam cut through your images then horizontal prints are possible. If you do this make sure you get a couple of friend to help you pin them up, to help prevent any ripping of your prints during the pin up process as these are tougher to hang.
Partial print coverage with the main panel as one horizontal strip complete with full length side panels
Some students like to leave a gap in the printing towards the base of the bay to bring focus to models and other physical items you may be integrating into your presentation.
This can sometimes provide a nice contrast between the dark wood and the lighter paper prints.
The widest most commercial wide format printers are capable of printing is 1500mm. If this is your plan then this is the main constraint when choosing what size to make your panels.
Partial print coverage with the main panel as one horizontal strip and inline side panels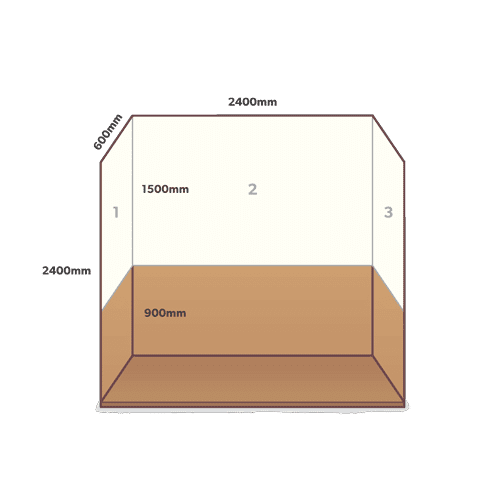 Full or partial print coverage by tiling or creating a collage using various sized prints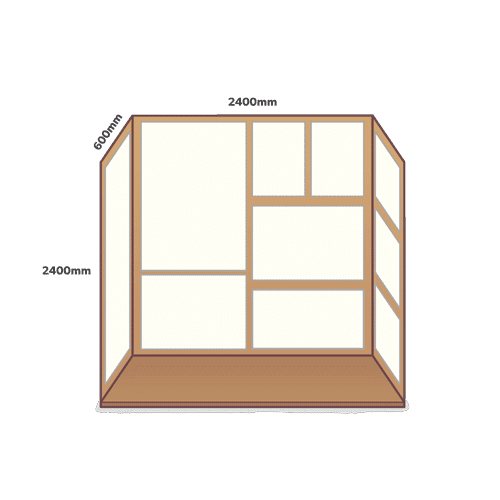 This final option illustrates how you may wish to create your bay using various custom size prints. This can be used to good effect using the wood to frame the prints.
Both wallpapering and using odd size prints have their pros and cons.
Lots of small panels are great if you're able to segment your work and break it down into smaller projects, getting one out of the way and printed before moving onto the other. The only problem with this is if you're organised and get lots printed ahead of time and then decide to tweak it or improve it closer to the deadline you'll need to re-print again.
It's not necessarily cheaper to print smaller panels and odd shaped banners either, if they're unusual shapes and sizes.
Smaller panels definitely has the advantage if you're worried about computing power. It's often possible to work much faster and efficiently on smaller panels and you're less likely to run into technical problems than if working on huge Photoshop PSD and PSB documents.
The wallpapering gives a great visual impact, along with the freedom to work on a very large blank canvas on your computer and edit all aspects of the bay up until the very final moments before you send it to print.
It also usually allows for the fastest print time and pinup than lots of bitty prints, so if you're working up to the last minute it has its advantages.
One final layout option to think about is creating a print to lay flat along the floor of the exhibition bay. You can have prints running the length of it or mark out space for you objects and have images and text printed around that object.
This is not an exhaustive list, but definitely covers the majority of layouts we've experienced in the past.
Paper Types Available for Exhibition Printing
Heavyweight 180g Matt
A flat, bright white paper, great general all rounder
Heavyweight 230g Matt
An extra thick, flat bright white matt photo paper. The extra thickness allows for more ink to be applied for increased definition in heavy ink coverage areas, this can really make your panels pop.
We highly recommended the 230g matt as the white matt of choice for the final exhibition. It's also excellent for portfolio printing if you're not putting them into portfolio sleeves.
Heavyweight Satin
A heavy,  bright white photo paper with a slight texture and sheen (but not glossy).
Perfect for lots of photos and renders. Solid black backgrounds look excellent on satin.
Heavyweight Cartridge
A heavy, off white, textured matt paper. Perfect for hand drawings, line drawings, sketches, pastel shades, solid blocks of colour and photographic image.
Colours do tend to dampen slightly when printed on to cartridge. Particularly vibrant colours can shine through, and pastel shades look great, but some photographs, renders and large dark prints may be better suited to the matt or satin.
Not recommended for large solid black backgrounds.
Important Exhibition Dates and Timelines
The pin up deadline this year is on 4pm on Friday 8th June 2018.
With some units having a mock exhibition a week earlier on on Friday 1st June.
Usually the doors to the studio are locked once Friday afternoon rolls around, but you can pin up in the days leading up the the 8th.
We strongly advise trying to set your own personal deadline of striving to complete all digital work by Sunday 3rd June and being ready to print as early in the week as possible between the Monday to the Thursday.
This will give you plenty of buffer time should you have any catastrophic computer issues, print issues and time to reprint anything you'd like to tweak before the Friday deadline. This should make the printing part of your deadline a lot less stressful and free up time to work on models and other practical parts of your exhibition bay for the rest of the week.
ECFs – Extenuating Circumstances Forms
Some people will end up filing extenuating circumstances forms for a multitude of reasons. In years prior to 2016, our experience was that many were granted and the ECF deadline is usually the following Tuesday. If that is the case this year, then it would follow that the ECF deadline will be Tuesday 13th June 2017.
However, in 2016 the number of students that printed with us and received an ECF declined dramatically from 13% to only 1% of students.
If you are granted an ECF, we strongly recommend you continue to work as hard as possible to have your panels ready to printed over the weekend, allowing for a non-rushed pinup on the Monday or Tuesday morning.
From past experience a very small number of students may be unable to meet the Tuesday extended deadline and instead have their deadline pushed back until later in the summer, sometimes as late as mid August. The length of the extension is dependent on the nature of the the circumstances, so if you get a summer ECF don't automatically assume you get the whole summer. It's not an excuse to to take a couple of weeks off to party or chill and watch Netflix all day. Instead use the time wisely to regain your composure, get your head back in the game and approach your work with a fresh more relaxed outlook, hopefully with a bit less stress and anxiety.
Force yourself to continue to get even a small amount of work done each day so you don't completely leave the architecture and studying mindset. It's much more difficult to get back in the zone if you take a break for a few weeks and then rush to finish before your new deadline.  Don't give up, make a written plan and keep chipping away at what you need to accomplish in order to complete your work.
Software
We strongly recommend using software from the Adobe Creative Suite to create your panels. Primarily we would recommend Photoshop, but InDesign is also a popular choice for many students.
There's used to be a very high barrier to entry for using the professional level Adobe software in terms of cost, with a single licence for Photoshop along often costing around £600. But since the introduction of the Creative Cloud it means that you can no longer outright buy a licence, instead you effectively rent it using a monthly subscription model. This has it's pros and cons, but it does make the entirety of Adobes software range much more affordable and available to students that want all the latest features.
If you're incredibly strapped for cash and just need to make it through the next month until the end of term then you may be able to get buy using the Photoshop and InDesign free trial, which should last 30 days.
If you've already have an Adobe account with your mail email address and it won't let you sign up for the free trial, then you can create a new Adobe account by first creating a free Gmail or Microsoft Outlook Live email address and using that instead. Alternatively on some email providers like gmail you can sign up to services by appending your username with a '+' sign and a keyword.
For example: Your normal address is saulgoodman@gmail.com and you've already signed up using that email address. So instead try signing up for a new account using saulgoodman+adobe@gmail.com
Many companies will recognise this as a unique email address, but you will still receive anything sent to it in your Gmail inbox with all your other mail.
If you plan to continue studying next year or use the software for personal or professional creative use then it's worth considering signing up to and paying for the student subscription using your .ac.uk email address.
If you feel you can get away with only Photoshop, you can opt for the Photoshop and Lightroom (Photo editing) pack for £8.57 a month on a one year commitment, which works out at £102.84 for the year.
Alternatively  you can subscribe to the entire Adobe Creative Cloud suite which includes nearly everything Adobe makes for their student rate of £15.49 a month, which works out at £185.88 for the year.  This is a good choice if you've ever wanted to experiment with the other professional video, audio, design and other creative software included in the suite.
This may seem expensive, but the student rate above for all apps is a £362.88 discount on the normal annual price. In terms of an investment into your education, especially if you plan to continue in the creative field or as an architect after this year, then it's actually pretty good value considering you get all the latest features and security updates. Updates and new features are now rolled out regularly, so it's a good choice if you want access to the most up to date, secure and legal version.
Video Resources to Learn Software Important in the Architecture Industry
If you're new to Photoshop, InDesign and the CC, or even if you're a veteran, and would like to learn more then we highly recommend the video training courses at Lynda.com
They're a great way to get up to speed on how to effectively and efficiently learn and use the Adobe Creative Cloud to its fullest potential. Search through and check out some of the videos. No matter what your current skill level is I guarantee you will learn some cool tips, tricks and features you didn't know existed! These are incredibly powerful and complex pieces of software, video a great way to get the most out of them.
Lynda also offers video courses on a huge number of other pieces of software, including 3D modelling, CAD and rending software. They even have a section dedicated to Architecture videos. The full library is worth a browse.
You can sign up to a 10 day free trial here. After that it's about £15 a month for the standard membership. Be sure to put a reminder on you calendar 10 days from when you sign up to prompt you to cancel if you decide you don't want to continue. The great thing about Lynda is that there's no commitment to stay subscribed. So you can sign up for one month, consume as much video as you can and cancel at the end of that month.
If you have the time, there's a huge wealth of knowledge on there and it's a great way to learn complex pieces of software. It's also great way to keep you on your toes, learning and polishing your technical skills in the down time over the summer holidays if you get bored ;)
Some other good video resources are:
Alex Hogrefe's YouTube videos for renders, Sketchup and Photoshop
If you know of any others, comment or message us with a link and we'll add them to the list!
Software Settings
Colour Space
We accept both CMYK and RGB files although we recommend setting up your files in the CMYK colour mode.
Adobe RGB will give you in theory the biggest colour gamut but since your panels are being printed on a media with a lower colour gamut than Adobe RGB itself, it is safer to convert files as CMYK to ensure you do not get any "clipping" of colours that can not be reproduced accurately.
Using CMYK will ensure the most consistent colour reproduction and print results no matter where you end up printing. Whether it's the university printers, you have your own at home or you use any professional local print shop.
Resolution
If you're using Photoshop, ensure that your canvas is setup up to 300 pixels per inch, also known as 300 dpi.
If you're using InDesign, then when exporting to a raster based file format such as JPEG or TIFF then you should also export to this resolution.
This is the best setting for a balance of file size to reduce the chance of technical issues when sending your file to print, while maintaining quality so that text and fine lines still look great.
For further details on file preparation, have a read of our full guide to preparing your files for print.
Print Stats from Previous Years
Printed exhibition bays with us in June 2016
We facilitated the printing for over 100 3rd year University of Nottingham architecture students in 2014, 2015 and 2016 and nearly the same again for those in other years needing their portfolios printing.
We've been through these deadlines with you in the past and we use our experience to do our best to provide you with the most organised and stress free end of year printing we can.
Your deadlines become our deadlines and we're there with you until the end.
230g Matt was the favourite last year, with nearly two thirds of people going for a smooth white matt finish. Cartridge paper was a close second with 38% of students printing their panels on the textured, off white paper. Poor old satin didn't get a lot of love though, with only 2% of the prints ending up on the brilliant white photo paper.
This represented a shift towards matt compared to 2014 when it was nearly a 50/50 split between the matt (49%) and the cartridge (46%) as a paper choice last year. Satin also lost ground to the matt going from 5% in 2014 to 2% in 2015.
Those who printed on satin tended to have panels with very large colourful renders or large dark solid colour backgrounds or panels which contained lots of black.
Students who printed the weekend before the Friday deadline –
3%
Students who printed on the Monday –
12%
Students who printed on the Tuesday –
17%
Students who printed on the Wednesday –
33%
Students who printed on the Thursday –
35%
You can see above, less than a third of students were organised enough to print on the Monday, Tuesday or earlier last year. This doesn't seem like many, however the amount of students who printed on the Monday or earlier in 2015 actually doubled compared to 2014. It's definitely the way forward if you can get organised and give it your all over the next couple of weeks to finish by the weekend before the deadline.
Getting the printing out of the way on the Monday, Tuesday or earlier gives you time to completely focus on your model and other practical parts of your exhibition display and make small reprints much more easily if required.
In 2016 there was a dramatic decrease in the number of students printing their exhibition work through us who were granted an ECF.
It dropped from 13% in 2015 to only 1% in 2016.
This could be a for a variety of reasons. If you make a plan now, stick to it, and keep working every day you can make the deadline, so don't give up and don't rely on getting an ECF.
Of those granted an ECF in 2015, 92% had an short extension until the following Tuesday or a bit later in June, and the remaining 8% received a summer long extension giving them until mid August to complete their work.
Exhibition Season Survival Tips from 3rd Year Architecture Graduates
We spoke with some 3rd year architecture graduates to seek some advice from those who have been through it before and find out what their tips are for surviving your last term as an undergrad.
Some of these may seem obvious, but sometimes it can help to be reminded. Especially when deadlines are looming and the workload increases, it's easy to lose sight of the bigger picture and forget the little things.
Backup your files, often! Use an online backup service such as Dropbox or Google Drive. But also create old school USB backups. Computer issues, technical issues and mistakes are inevitable. Make a backup now and repeat regularly before it's too late!
Setting up for the exhibition will take longer than you expect. Plan more time than you think.
Take a spirit level with you – you can use the Compass iPhone app or a custom spirit level app, which uses the phones accelerometer.
Make sure you have enough pins – get some in advance as lots of local shops tend to sell out closer to the deadline.
Not all pins are the same. Try to avoid the thin drawing pins and ball pins, they can be very fiddly and tough to affix to the wooden exhibition bay panels. Instead go for the thumb tack style in a consistent colour.
Be sure to enlist in some non-archi friends as pinning up a banner isn't easy on your own!
When laying out our panels digitally before print, don't forget to take into account any computer screens or other objects to be mounted to your bay and anticipate space for it. It may seem obvious, but it's easy to forget about something like that only to find when you go to mount the object, it's covering a portion of your print.
Nothing beats test printing on the actual printer your final panels will be produced on, but if you're working late into the night or if you just want a super fast cheap test print then use the A3 printers at uni for scaled down cheap CMYK colour test prints. They will often give you a surprisingly good representation of the final colours.
Try to refrain from working on your models until the end – focus on your digital work and prints first, then shift your attention to the practical side of things.
If you're a 2nd year reading this, visit the 3rd year exhibition evening and check out all the finished bays in person. Add the date to your calendar so you don't forget. Reading about the exhibition and getting advice from students in the years above will get you so far, but nothing beats being able to view the completed bays close up and in detail in person. The same goes for 5th years with respect to the 6th year architecture final exhibition. Plus the exhibition evenings are usually a really fun event when everyone has a chance to hang out in a relaxed environment once all the deadlines have passed!
"No one is going to see your sketchup model, so don't take forever detailing every single part – set up your perspective shots and work on detailing those parts."
"Remember the extra little bits to personalise your bay in line with your project – like mine was about jam so I had a couple jam jars, one guys was about chocolate so he had a cocoa pod etc."
Your tip here! Send us a message on Facebook or comment below with your best tip :)
A huge amount of thanks goes out to all those who have contributed tips to this survival guide. We appreciate you sharing your wisdom and knowledge from years gone by to help benefit the new cohorts!
If you have a tip you'd like added please comment below, we'd love to hear from you and include it.
Local shops for last minute architecture resources
Located just behind the Victoria Center on Huntingdon St. these guys are fantastic for all sorts of student printing and architecture services. If you need large format scanning of work you've created by hand then this is the place to go.
They also now have a recently renovated shop front complete with a section completely dedicated to 3D printing. It's kitted out with 3 (or it might be more?!) 3D printers. If you can't get a slot on the university printer then contact Duncan at the shop for a quote and he'll work with you to get your work 3D printed for a good price.
Large format A2, A1 and A0 Scanning
3D Printing
Large format printing
Located near Oceana, I'm sure most of you 3rd years know where that is ;)
This shop can be useful for small model people and other types of props to use in your models and dioramas.
Do you know of any other great local companies where you can get architecture supplies last minute? Please let us know by commenting below and we'll update the list :)
We hope you found this guide and insights from last year useful. Hopefully it will help you to prepare and plan your time effectively and reduce some of the uncertainty and doubt about how it all works.
If any of the 5th or 6th years, those now in industry or tutors have any other sage advice we'd love to hear your pro tips over in the Cycle Printworks Student Printing Nottingham Facebook Group or comment below and I'd be happy to add any additional useful info to this post
If you have any feedback or have any questions your welcome to contact myself (Alex) on 07877 393259 or Lee on 07814 746517 anytime.
Book an exhibition print slot for this year
If you would like to book an exhibition print slot for next week simply click the button below and complete the form.
Only do this once you've finalised your exact layout and paper requirements. Then either myself or Lee will call you back to arrange a slot.
If you have any questions, queries, or need a slot before Monday 4th June, feel free to call or text as normal once you know what your exact requirements are.
If you and a friend are using the same computer and browser to complete the form on SurveyMonkey, you may need to open a new incognito window or private browsing window for additional slot requests.
Join the Cycle Printworks Student Printing Nottingham Facebook Group & share this post to enter to win £50 of print credit